Status and Background of India's Textile Machinery sector as of today
While India took the lead in evolving as no. 1 Cotton producer, and a major MMF fiber producer in the world, it continued to depend heavily on 'Import' of key Textile Machinery, especially for yarn spinning, high-speed weaving, knitting and technical textiles. Also, the availability of high-quality indigenous machinery for textile dyeing/finishing, particularly for wide-width processing and grey fabric preparation etc. is still a weak link in textile machinery manufacturing. This is indeed a paradox for a major textile exporting and cotton producing country which has to redeploy and invest its 'textiles export incomes' towards 'import' of such textile machinery. Also, the industry has to take the onus and blame for continuing to be a converter and manufacturer of raw materials and/or interim grey textiles like yarns and raw fabrics; with nil or marginal focus on the R&D efforts for the machinery and technology development except by the global and flag bearer LMW Co. based in South India. LMW have now evolved today, to be amongst the top 5 Spinning Machinery makers in the world. Even a dozen of Textile Industry focused research bodies, and including premier institutions like the government supported TRA's and the IIT's, did not contribute to machinery development and initiatives, despite availability of government funding to support the required research and studies etc. In fact, some of the earlier pioneering companies like Texmaco, NSE and MFI failed to upgrade and saw their demise 25 years ago and at the time when the need for textile machinery development with new technology was perhaps the most needed.
Key factors to be understood for Future Course Corrections, vis-a-vis Few Past Initiatives especially by M/s LMW for high tech. yarn spinning machinery
To understand the 'success' model of homegrown Indian LMW Co. which initiated the 'technology collaboration' route with global leader Reiter as the technology partner. This however got over focused on the growing yarn spinning machinery sector which seems to be the viable and volume business to sustain development costs. This did marginalize any true efforts to bring in state of art technology through the much-required collaborations in the field of Weaving/Knitting/Processing and Technical Textiles machinery sectors. The other good example for such leadership has been showcased by the Himsons Co. for manufacturing and exporting of the synthetic filament 'Texturizing' machinery in competition to those from China, Taiwan and South Korea.
What was really needed almost 3 decades back was equal focus on development of fabric forming machinery and technologies like high speed/wide-width 'Shuttleless' weaving, dyeing and finishing especially for the ever-growing knit fabric segment and embroidery and, also for new evolving Technical Textiles and Digital Printing areas. During these decades the machinery and process for sustainable technology also took a back seat. Also, an opportunity to serve the exports to textile producing countries in the south-east was lost by India. While global and India's Apparel manufacturing capacity and exports been rising over last 3-4 decades, it is indeed a matter of shame that not even a basic garment sewing machinery of international standard and acceptance quality could not be developed. This did open the Indian markets vis-a-vis high capital and interest cost and space for the higher quality machines from South-Eastern competitors like Japan, China, Taiwan. It is clear that this lapse by our Textile Engineering related  Co`s over the decades of 1990 to 2010 led to the high cost of import of textile machinery for  India's  MSME  producers which impacted their higher capital cost and unit manufacturing cost for export manufacturing of textiles & apparels, vis-a-vis other South-East Asian rivals like China, Vietnam.
Understanding India's Current Technology 'Gap' Areas in Textile Machinery
While India's premier textile machinery company LMW, has been the flag bearer in the vital yarn spinning machinery sector, with its exports to other textile producing countries, there are very few India Cos. worth mentioning in post spinning arena eg. Yamuna for stenters and finishing machinery and possibly Dalal Engg.  for the yarn and fabric dyeing machinery. There are clear and discernible Gap areas requiring immediate redressal, mainly as per below.
Circular Knitting especially for high speed and large diameter machines with large number of feeders, especially for Lycra feeding…and onward evolution to knitting machines of type Santoni for seamless knit garments for use in inner wear and athleisure etc.
In yarn spinning area, complete lack of and absence of final value adding yarn machines manufacturing especially for high-tech fibres. Link Coners and Air Vortex and Open-End spinning machines are the need of the hour, in view of the diversions from traditional ring spinning machinery
High speed 'shuttleless' weaving looms of the contemporary type Air jet /Water jet and Rapier type, especially in widths above 190 cm and including Air jet and Rapier type weaving looms for Terry Towel loom and technical textile fabrics in widths 3.6 to 5.4 meter.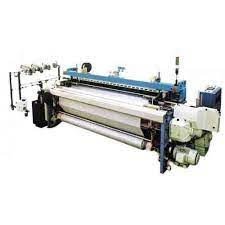 High speed and width fabric preparation and fabric processing machinery, especially for textile finish stenters of with 2.4 Meter+ and above.
Basic garment making machinery of type Single Needle, Overlock and Flatlock, with variations for sewing, woven and knit fabrics, also multi-head Embroidery machines and, the Saw Gin type cotton ginning machines, also Laroche type for garneting and regenerating fiber from recycled textiles.
THE FUTURE IS FOR DEVELOPMENT AND UTILSIATION OF HIGH-TECH AND DIGITALLY CONTROLLED IOT 5.O MCS WITH AI AND ML SUPPORT. Post ITME 2022: Way Forward, and Future Play for India's Textile Machinery Sector
India's textile machinery industry has to evolve and understand the need, not only for the Indian textile industry, but also for exports of textile machinery to new textile global hubs like Vietnam, Uzbekistan, Bangladesh, African cotton producing countries and the CIS countries with large cotton production. It is the strong and healthy textile machinery making industry  that  can in fact strengthen India's global positioning among top 3  textile  manufacturing  and  exporting nation, with share of 5%+.
                                                                         Munish Tyagi ,Textile Industry Consultant